How to Start a Mobile Veterinary Business
Uncategorized
|
8 min read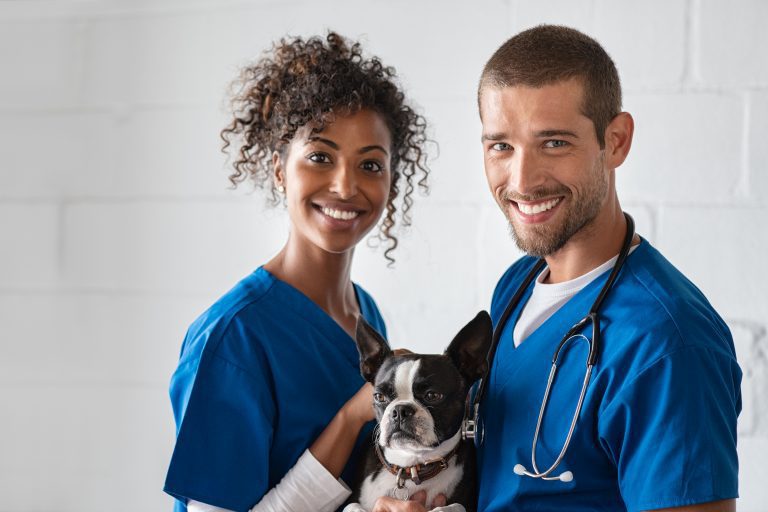 How to Start a Mobile Veterinary Business
As a veterinarian, the work you do is invaluable. You offer life-saving services to pets in need. But what happens when a pet owner can't make it to your brick-and-mortar clinic? Or worse, what if the pet itself can't move without causing the situation to worsen?
That's where mobile vet services save the day.
Not only are mobile vets convenient for pets and pet owners—offering unparalleled services that show up at pet owners' doorsteps—but being a mobile veterinarian or offering mobile veterinary services is an incredible opportunity to generate substantially more income as well as better control your schedule.
Want to get this show on the road? If you're considering starting a mobile veterinary business, you're in the right place. We'll break down the how step-by-step, then we'll explain the why. 
How Do Mobile Vets Work? 
Mobile vets alleviate the stress associated with providing pets the essential healthcare services they need by bringing the exam room directly to their homes. 
For pet parents, mobile veterinary services: 
Allow for easier scheduling 

Eliminate the need to leave the home 

Provide care to pets with limited mobility 

Reduce the anxiety pets may experience when traveling in the car or sitting in a crowded veterinary waiting room  
Due to their convenience, mobile veterinary services have grown in popularity among pet owners and become a client-friendly way for veterinarians to boost their income. 
A Step-by-Step Guide: How to Start Your Mobile Vet Business 
Before jumping aboard the mobile veterinary train (or rather, the mobile veterinary van), you'll need to consider two facets to starting your business:
General business creation

– General business creation refers to the basics of starting your own business. This includes creating a business plan, filing paperwork, and obtaining proper permits. 

Industry-specific requirements

– This facet of starting a business refers to obtaining the industry-specific equipment your business needs to operate. 
To start your journey on the road to small business ownership, let's break down the step-by-step processes of general business creation. 
Step 1: Build a Business Plan
Your business plan is your roadmap; it'll help you plan out your route to success, ensure you reach your career goals, and prevent any financial mishaps. 
A thorough business plan will take into account:
Your expenses

– Before starting any business, determine your startup costs, as well as your ongoing expenses. This not only allows you to calculate your budget, but it also helps you set prices for your services. 

Your target market

– For a mobile veterinary business, your target market are pet owners who avoid the vet due to time constraints, distance, or stress. To best serve this market, you can plan out the hours and days you'll work, the areas you'll serve, and the calming techniques you'll utilize to create a relaxing and enjoyable experience for your patients. 

Your brand

– Choosing a name for your company and a voice for your brand gives your business its own identity. It helps distinguish your business from others in your industry and allows your customers to get to know you before they schedule an appointment. 
Step 2: Form an LLC or Register as a Sole Proprietorship
Once you have a plan for your business, you need to set up a structure. Two of the most common types of business structures are limited liability companies (LLC) and sole proprietorships. 
To decide which is right for you, consider the following: 
Limited liability company

– An LLC sets your business apart from you as an individual. While you may be the creator of the LLC, you can also choose to share ownership with business partners and appoint a manager to handle day-to-day operations. The separation an LLC provides also allows for personal liability protection, which ensures your personal assets can't be touched in the event of a lawsuit or debt collection.  

Sole proprietorship

– With a sole proprietorship, you and your business are one entity. You're the sole owner and operator, and are entitled to 100% of the profits. However, this also means that you're responsible for 100% of the liability. Often, sole proprietorships are ideal for low-risk businesses that anticipate smaller client bases. 
Step 3: Apply for an EIN
An employer identification number (EIN) is what allows businesses to register for taxes. While EINs aren't necessary for sole proprietorships with no employees, they can nevertheless provide a number of other benefits. 
With an EIN, you can:
Hire employees

Open a business bank account

Build business credit

Reduce your risk of identity theft by using your EIN rather than your social security number
Step 4: Obtain Necessary Permits 
In order to legally provide medical service and treatment to your canine clientele and feline friends, you'll need to obtain a state veterinary license and controlled drug license. Depending on your local and state mobile business requirements, you may also need a permit for the veterinary vehicle itself. 
To find out more about the specific permits required in your area, contact your state's veterinary medical board and small business association. 
Extra Steps Worth Considering 
After completing the four steps of general business creation, you'll be an official, registered, and operating business. But don't break out the treats just yet. While the following steps aren't necessary to creating your business, you may find them helpful in the long run: 
Create a business bank account

– Separating your business account from your personal account can make it easier for you to file taxes, build business credit, and keep accurate banking records. 

Set up business insurance

– As a mobile veterinarian, you'll spend the majority of your day on the road. With commercial auto insurance, you can ensure both you and your vehicle are protected in the event of an accident. In addition to auto insurance, you may also want to consider general liability insurance (which covers bodily injury and property damage), as well as professional liability insurance (which protects you financially in the event a client sues you). 

Market your services

– Aside from using your veterinary vehicle as a mobile billboard itself, you can also create a business website or business social media accounts to promote your new business and grow your client base. 
What Are the Costs of Mobile Veterinary Businesses? 
Although you can't put a price on alleviating pet anxiety through the tail waggin' comforts of mobile services, you can put a price on starting a business. And you should. By determining the upfront and ongoing costs of creating your mobile veterinary business, you can guarantee long-term success.
Upfront Costs
When starting a mobile veterinary business, the majority of your upfront costs are going to come from the vehicle itself. To that end, Wag'n Tails offers three affordable vehicle options, each boasting unique capabilities, for those who want to break into the mobile pet care industry. 
These vehicles include:
Elite Well Pet Vet

– The Elite Well Pet Vet is Wag'n Tails' largest mobile vet clinic, with enough room to fit everything you need including a bathroom!.

Supreme Well Pet Vet

– While smaller than the Elite Well Pet Vet, this Mercedes-Benz sprinter conversion nevertheless boasts cutting edge technology and enough spaciousness for a veterinarian and technician to work comfortably. 

Dyna Well Pet Vet

– Built on the Ford Transit, the Dyna Well Pet Vet is perfect for those looking for affordability and durability. It is our most popular vehicle with customers.
Depending on which model you choose, you can expect to pay between $85,000 and $120,000 to purchase a vehicle. Leasing is also an option.
Aside from vehicle costs, you'll also need to budget for your industry-specific business expenses. For mobile veterinary services, these can include: 
Equipment (e.g. X-ray, ultrasound, dental, lab etc.)

Examination tools, such as stethoscopes and thermometers

Supplies for collecting laboratory samples 

Medications

Tests, including heartworm tests and feline combo tests 
Fortunately, all three Wag'n Tails models come equipped with a stainless steel examination table, an examination stool, a digital pet scale, a refrigerator for medications, and plenty of secure storage space. 
Ongoing Costs
Unlike traditional brick-and-mortar clinics—which require monthly rent and utility payments, in addition to building maintenance costs— veterinary vehicles boast minimal ongoing expenses. 
Aside from vehicle purchase or lease costs, mobile vets typically pay for:
Fuel to drive from client to client 

Insurance for the vehicle

Veterinary equipment and supplies

Medications
While these costs will impact your business plan, they'll still be far less than costs required to upkeep a brick-and-mortar veterinary clinic. 
Once you've determined your ongoing costs, you can set prices for your services and create a schedule that ensures you not only meet your monthly expenses, but you far exceed them. Because mobile services provide customers with added convenience, mobile vets are able to charge substantially higher rates than vets working in a brick-and-mortar clinic (on average 30% more). 
What Are the Benefits of Starting a Mobile Veterinary Business? 
As a veterinarian, your career comes with the built-in benefit of providing life-saving care to countless animals. But by starting a mobile veterinary business, you can also experience benefits such as: 
Expanding your services

– With a mobile vet business, you can expand the reach of your helping hands and serve more clients than you could in a traditional brick-and-mortar practice. 

Increasing your income

– With a larger client base, reduced ongoing costs, and the ability to price your services higher than at a brick-and-mortar clinic, you'll see an increase in profits. 

Setting your own schedule

– When you start your own business, you become your own boss. That means you make the rules, set the schedule, and reap the rewards. Most mobile veterinarians report a more balanced and higher quality of life.

Serving animals with limited mobility or emergency needs

– When an animal needs medical attention, but isn't able to be moved or transported to a clinic, you can save the day by bringing the clinic directly to their front door. 
Jump Start Your Mobile Vet Journey with Wag'n Tails 
Now that you're equipped with the how and why of starting your own mobile veterinary business, the only question left to ask is: when?
With Wag'n Tails, you can start your mobile veterinary journey today. 
Our best of breed veterinary vehicles and flexible financing options make it easy for you to break into this increasingly popular industry and deliver care to our most loyal companions. Don't wait any longer to put your mobile veterinary dreams into motion, with Wag'n Tails. Contact us today!
Sources: 
Truic. How to Start a Mobile Vet Business. https://howtostartanllc.com/business-ideas/mobile-vet-business
Dispomed. Mobile Veterinary Care: What You Need to Know Before Starting Your Own Practice on Wheels. https://www.dispomed.com/mobile-veterinary-care-what-you-need-to-know-before-starting-your-own-practice-on-wheels/