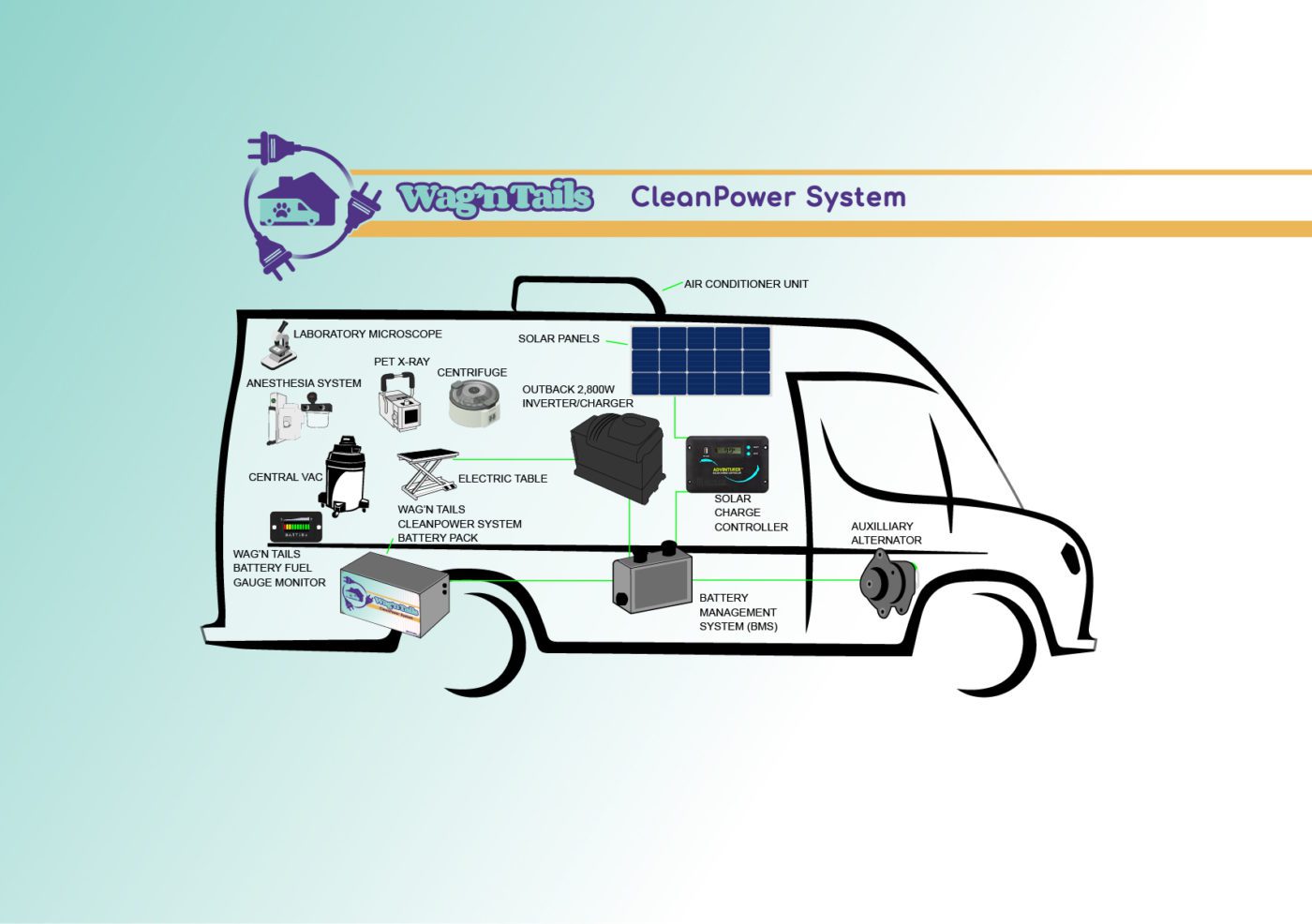 How Does the CleanPower System™ Work?
The Wag'n Tails CleanPower System provides a large power source with a 600 amp lithium battery pack. This pack weighs only 210lbs and is located in small box in the rear of the unit.
The Air Conditioner is 12V and runs off the power directly from the lithium battery. The 2,800-watt Outback Inverter converts the DC power from the battery pack to AC power for the appliances like the Exam Table, Exam Light, Digital X-ray Machine, Vacuum, Veterinary Equipment, etc.
The CleanPower System uses a combination of solar power and power from the lithium and inverter batteries to reduce your mobile clinic's carbon footprint.
The CleanPower System will make your life easier, reduce overhead costs, and improve productivity without disruptions.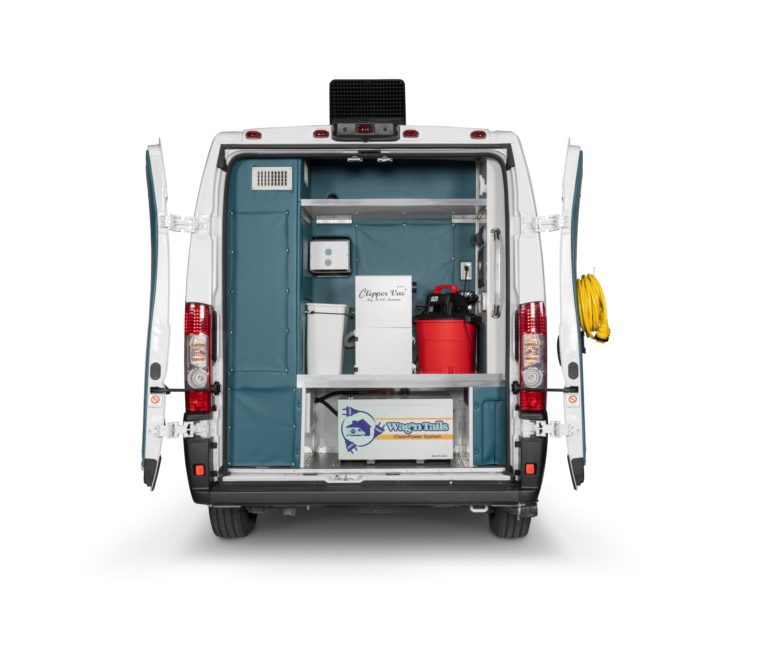 Wag'n Tails CleanPower System:
600-amp-hour lithium battery pack with battery management system (BMS) and internal heater, remote monitor display, second designated alternator, upgraded 22,000 BTU rooftop air conditioner, 2800W inverter/charger, solar panels on roof and additional electric heater in rear area. Onan Generator not included with Wag'n Tails CleanPower System option. (Access to power outlet required for nightly charging when not in use).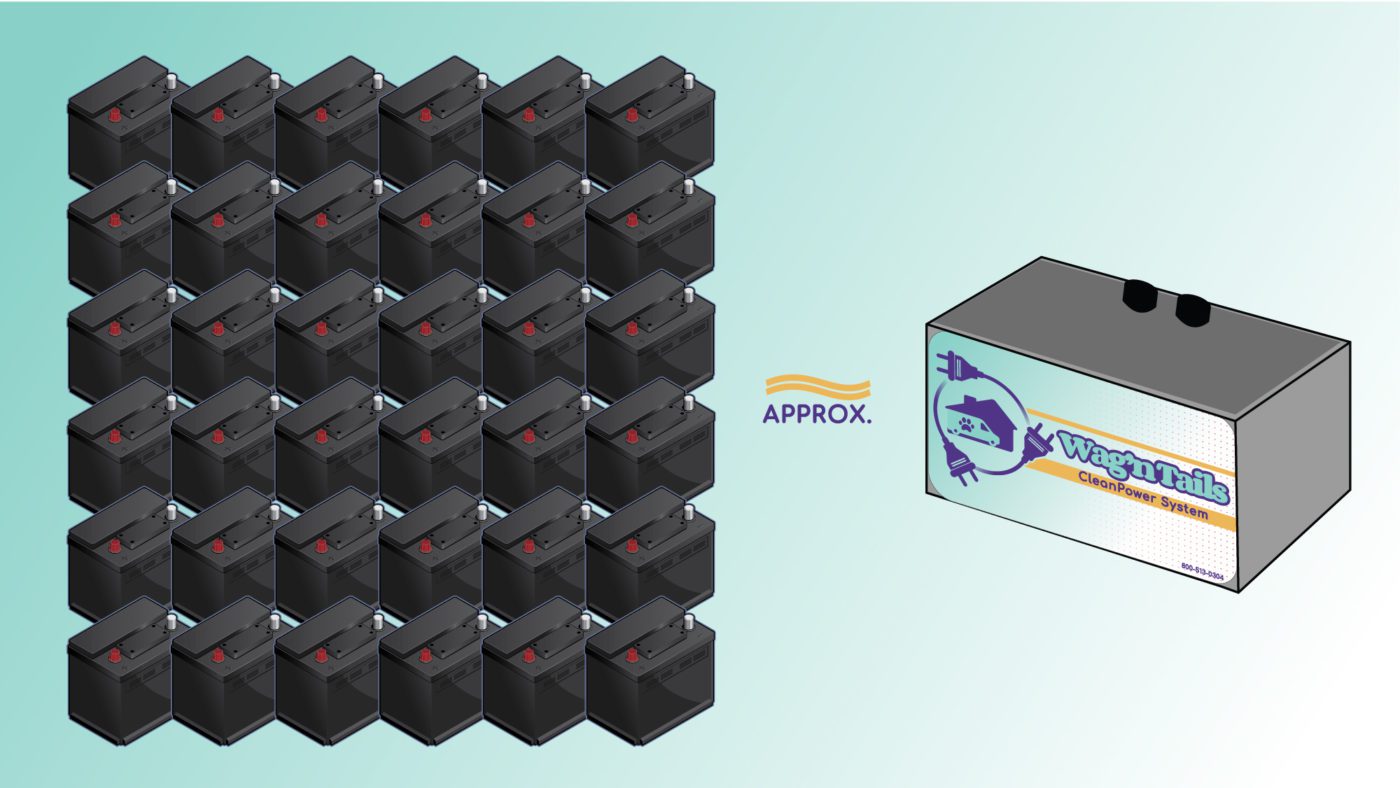 Lifespan of the Wag'nTails CleanPower Lithium Battery Pack
The battery pack will provide up to 3,500 cycles. A battery cycle is defined as a complete charge and discharge. From 100% to 0% for example.
Based on the average usage by our customers, the battery system will last from 10-13 years.
How much to replace the battery? Based on current prices, the battery pack will cost $8,900.00 to replace.
When you consider that lithium will last 3 times as long as a traditional lead-acid battery, you will get THIRTY-SIX traditional batteries in one small package. We estimate a lithium battery pack life of 10-13 years based on average customer use!
Why the CleanPower System?
Plug and Play – Just plug your van in at night to recharge for your next day.

No Generator!

Low Maintenance.
See patients the entire day without idling your van engine.

Run clinic air conditioner without idling your van engine.
The CleanPower System automatically charges itself throughout the day.

Energy-efficient and powerful.

Eliminates generator fuel costs.
Reduction in Overhead Costs for our Customers
Estimated annual operation costs for Generator power system with fuel consumption and maintenance is approximately $6,450.00 per year.
Estimated annual operation costs for our Wag'n Tails hybrid system with generator/2000W inverter/AGM batteries and maintenance is approximately $4,032.00 per year
Estimated annual operation cost for Wag'n Tails CleanPowerSystem is approximately $662.00 per year.
ROI for the for the Wag'n Tails CleanPowerSystem will be realized within 1 to 2 years over existing power systems.

Have more questions? Please call our sales team at 800-513-0304.
"We are very excited to provide mobile veterinary services in the coastal area to new and existing clients. Mobile services not only relieve stress in pets who do not like to be transported, but these services are also very convenient for pet owners who are unable to easily travel. Mobile services are especially great for clients who would prefer a private visit with their pet's doctor in the comfort of their own home."
Dr. Gwynn Hardee
"There are people in need who can't come to the clinic, so I go to them. Mobile veterinary services provide a stress-free environment for pets as well as clients. I feel the bond. I feel the love, unconditional love, and I know that pet parents feel the same way. Right now, I'm living my dream."
Dr. Venkat Kuncharapu
"Going mobile has been a big change for me. I used to work 12 hours a day in a large veterinary hospital and rarely had time to even go outside, which was hard for me. Now, I have freedom to set my own schedule, which helps me to have a more balanced life. I focus mostly on wellness care with my mobile practice but have an agreement with a local clinic to perform surgeries there one day a week, which works out really well for everyone."
Dr. Amalia Lopez
"The two hours commuting on top of a 10 to 12-hour workday was creating a taxing situation for my family and me. I wanted to continue practicing veterinary medicine at a level that I had grown to love while still having time to care for my husband and kids. Starting my own mobile veterinary practice has given me the flexibility to do both and not have to sacrifice one at the expense of the other. It has been a life-giving experience."
Dr. Kathy Baker
View All Testimonials