Wag'n Tails Start-Up Mobile & Brick-and-Mortar Salon Customer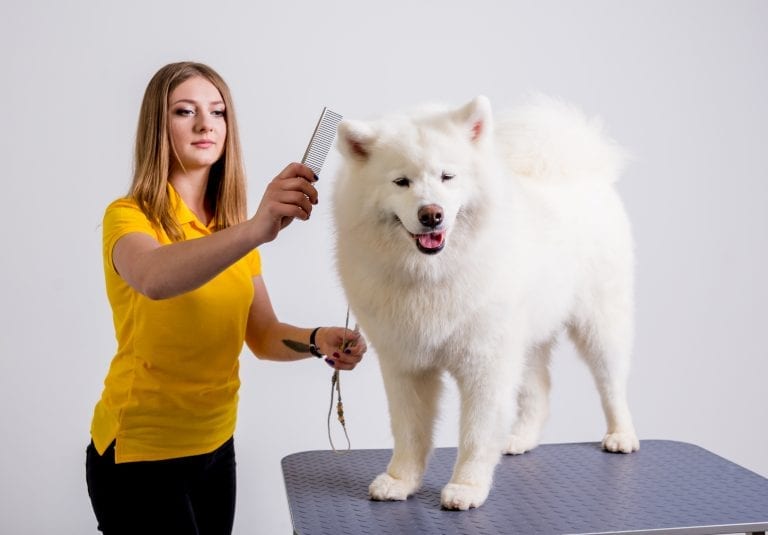 Growing up, Cait always knew that she wanted to work with animals. She loved being around pets and especially enjoyed holding them, so she was fairly confident from a young age that being a large animal veterinarian wasn't the right profession for her. However, Cait quickly found her passion in pet grooming while working at a local Pet Resort near her home. After attending a pet grooming tradeshow and meeting with a few Wag'n Tails customers, she decided that mobile pet grooming was the right path for her. After the trade show, she pitched the idea to her dad, and they contacted Wag'n Tails Mobile Conversions together to discuss pet grooming vehicles and the mobile pet grooming business model. 
Cait was only 21 years old when she purchased her first Wag'n Tails pet grooming vehicle, a 2000 Pet Pro. At the time, traditional lenders would not approve a loan for her due to lack of credit history and age, but she was fortunate to have a dad willing to help her out by lending her the necessary funds. She paid off the loan in about three years with interest. 
It did not take long for Cait to fill her schedule with clients and start making a healthy profit. After about four months of operating her own pet grooming vehicle, Cait hired a bather so she could groom more dogs and focus on multi-pet homes. Cait stated, "When I first started, they didn't have mobile grooming Facebook pages, so the Mobile Pet Grooming Business Success Guide and other resources from Wag'n Tails provided me with extremely helpful insights and best practices to launch my business and make it successful." 
Cait's bather soon showed interest in wanting to groom full-time, so Cait used the opportunity to reconnect with Wag'n Tails and ordered a second pet grooming vehicle. She never looked back! As Cait's business grew, so did her need for new pet grooming vehicles. Cait regularly trades in her older Wag'n Tails vehicles for new Wag'n Tails vehicles about every 3-4 years. She explained, "Trading in makes sense for my business. My vans are work vehicles and run on a regular basis, so trading them in every 3-4 years keeps the vehicles under warranty and looking both new and professional. Part of my brand is selling cleanliness, so new looking vehicles are what my customers expect. Trading in my vehicles also really helps me with my taxes, providing a greater annual depreciation expense tax shield."
Cait was successfully managing the operation of three pet grooming vehicles without any issues until she was informed that she could no longer store two of her vehicles at her parents' house. Cait and her husband had to decide how they were going to invest in the overnight storage of the three vehicles.  With some luck and connections, Cait had the opportunity to purchase a vacant brick-and-mortar grooming salon. It was a lot of work to gut and remodel the salon, but it made the most sense for both her family and business to have a salon as the "home base" for her three fully scheduled and highly profitable pet grooming vehicles. She also appreciates the office space that her salon has been able to offer.  
Cait structured her brick-and-mortar salon the same way that she runs her mobile business. According to Cait, "We offer high-quality and personalized grooming services at premium prices. We want to provide all of our clients and their pets with the best grooming experience possible." 
Because of the way that she runs her business, having mobile services paired with a brick-and-mortar salon has been extremely synergistic and rewarding for Cait. It has allowed her to expand her target market by providing clients and their pets with more options, which they have appreciated, and by raising her business visibility in the communities that she serves. Cait and her employees focus mostly on smaller dogs and multi-family homes with mobile pet grooming services, loving the flexibility that mobile services offer. Cait explained, "We don't typically groom doodles in our mobiles. We refer them and most bigger dogs to the salon. When dogs that are regularly groomed in the salon have health concerns or get older regardless of size, we transition them to mobile services to make it easier for those pets and more convenient for their pet parents."
Since the salon is structured similarly to the mobile business, there isn't a dramatic price difference. Cait's average starting price for mobile grooming services is between $100-110 per dog and about $80 per dog at the salon. She said, "Mobile pet grooming allows you to charge more and provides much more flexibility. Our pet grooming vehicles kept the business going when COVID-19 closures made us shut down the salon temporarily." 
Cait is loving life as an entrepreneur doing what she enjoys. She has a thriving pet grooming business in the eastern United States with great employees and is an award-winning groomer committed to providing excellent pet care services and continuing her education and training, so she can be the best at what she does. She went on to say, "Working with the sales team at Wag'n Tails has been awesome. Whenever I call them up, they ask me what I need and then get it done!"